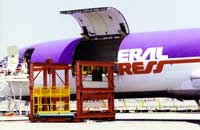 Corporate Offices
2675 Skypark Drive, Suite 103
Torrance CA 90505
tel. 310.457.2148
fax. 310.457.4125

Steel Fabrication
We specialize in the design, fabrication, and installation of steel structures such as buildings, pedestrian bridges, materials-handling bridges, mezzanines, and loading dock components. We can custom build to your unique solution requirements and deliver anywhere in the world.
Engineering
Our engineering services can develop and improve your ULD handling capacity. We design complete turnkey systems, or develop recommendations based on your current and projected cargo-handling volumes. Bringing us in at the earliest stage of your project will minimize your costs when making key decisions regarding crucial design specifications, including dock design, door specifications, workflow plans, and electrical requirements.
Project Management
In addition to managing the installation of our equipment, we also provide project management services to our customers to assist them in development of their total project, including site improvements, building development, permitting, and management of subcontractors.
Preventative Maintenance
Renmark ö Pacific provides service programs for operating equipment. We can develop a preventative Maintenance Program to minimize or eliminate downtime, and decrease your overall Operating and Maintenance budget.