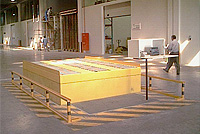 Corporate Offices
2675 Skypark Drive, Suite 103
Torrance CA 90505
tel. 310.457.2148
fax. 310.457.4125

Homeland Security
Homeland Security is an ongoing challenge and a high priority. Renmark Pacific delivers innovation and technical expertise to help our customers meet these challenges with cost effective and time efficient solutions. We have experience, knowledge, diverse technologies, and industry relationships that solve a broad range of homeland security challenges.
Scanners
Renmark Pacific develops and constructs facilities, gantries, and precision motion platforms for automated material specific detection systems such as Radioactive Neutron Source (RNS) or Electronic Neutron Generators (ENG.)
Camera Systems
Renmark Pacificās extensive experience in digital camera technologies includes design, integration and installation of off-the-shelf security DVR systems, high resolution machine vision systems, and custom designs including camera, control, recording, and software. Our experience includes underwater applications including deep sea exploration and recording, high resolution product test recording, portable systems, and internet distribution. Not only can camera systems provide real-time visual monitoring and control of your system, but they can be linked with storage and database systems to provide searchable records of transactions.