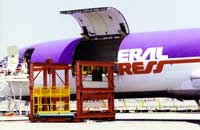 Corporate Offices
2675 Skypark Drive, Suite 103
Torrance CA 90505
tel. 310.457.2148
fax. 310.457.4125

Renmark - Pacific Corporation specializes in the design, manufacture, installation, and service of material handling systems used by the air cargo industry worldwide.
Renmark has extensive experience and expertise in the design of air cargo facilities and integrated systems. Our customers include major airlines, freight handlers, forwarders and expediters.
Moving cargo pallets or containers? Renmark - Pacific Corporation has the solution.
Our website provides an overview of our standard and customized products.
Renmark is an AS9100Rev C certified company.